Birch Grove News
Our school is an active, bustling little community, and we always have plenty of great news to report about our students, teachers, and events. We also like to post articles that will help parents and students make the most of the educational experience, so check back often!
Kindergarten Round Up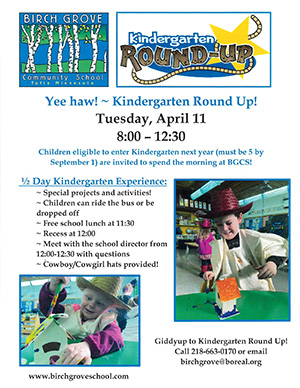 Yee haw! Kindergarten round up is on Tuesday, April 11 from 8:00 a.m. to 12:30 p.m. We invite children eligible to enter kindergarten next year (must be five by September 1) to spend the morning at Birch Grove Community School.
The half-day kindergarten experience includes:
Special projects and activities!
Children can ride the bus or be dropped off.
Free school lunch at 11:30 a.m.
Recess at noon
Meet with the school director from noon to 12:30 p.m. with questions.
Cowboy/Cowgirl hats provided!
Join the School Board
BGCS is looking for a Saplings or K–5 parent to join the school board. It is important that we have parent representation on the board. The new board member must start training within six months of election and must complete training within a year. BGCS will provide the training and ongoing training. Board members must be able to attend monthly meetings. Board meetings have just recently been changed to the third Tuesday of each month. If you are interested, please call (218) 663-0170. We look forward to adding another parent (or two) to the board!